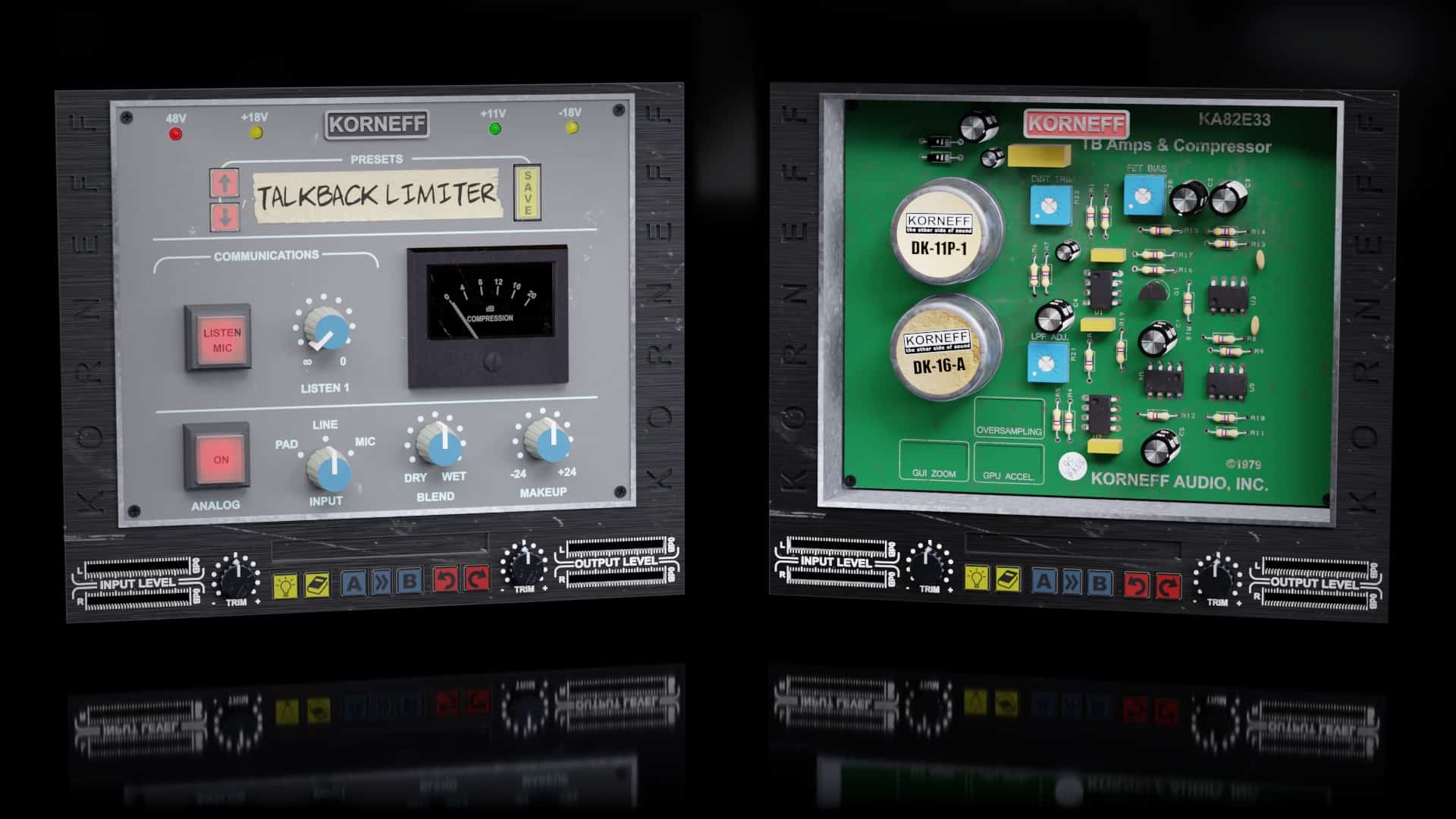 The Talkback Limiter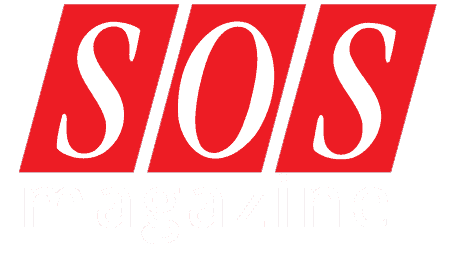 "A useful, characterful compressor, the Talkback Limiter is no one-trick pony."
"...a thick, punchy, vibey processor that oozes analogue-like charm..."
"...famous listen-mic compressor just got more tweakable."
full review at Sound on Sound
Punchy. Loud. Beautifully Destructive. Fun!
The Talkback Limiter is an aggressive, in your face limiter. Carefully modeled from the real thing, our Talkback Limiter has the character and anti-social tendencies that made it so popular for drums. We've added additional controls to make it much more versatile.
TBL 1.1 is an upgrade. We've added additional gain options on the inputs, added a new Aux Panel to make using presets and trimming overall gain easier, and we've improved overall graphics performance.
The Talkback Limiter 1.1 now has iLOK System/Machine Authorization, so now you can license the plugin via iLOK dongle, iLOK cloud, or System/Machine Authorization.
TBL 1.1 Update Video Walkthrough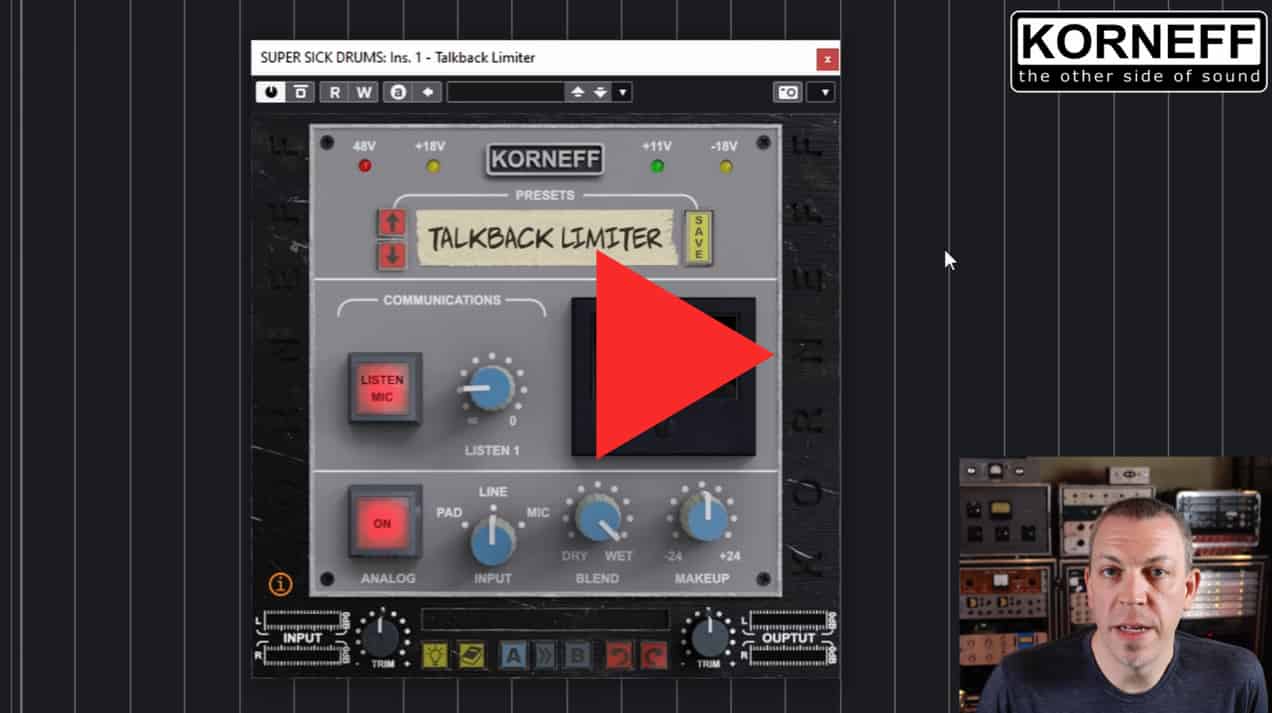 Get the Demo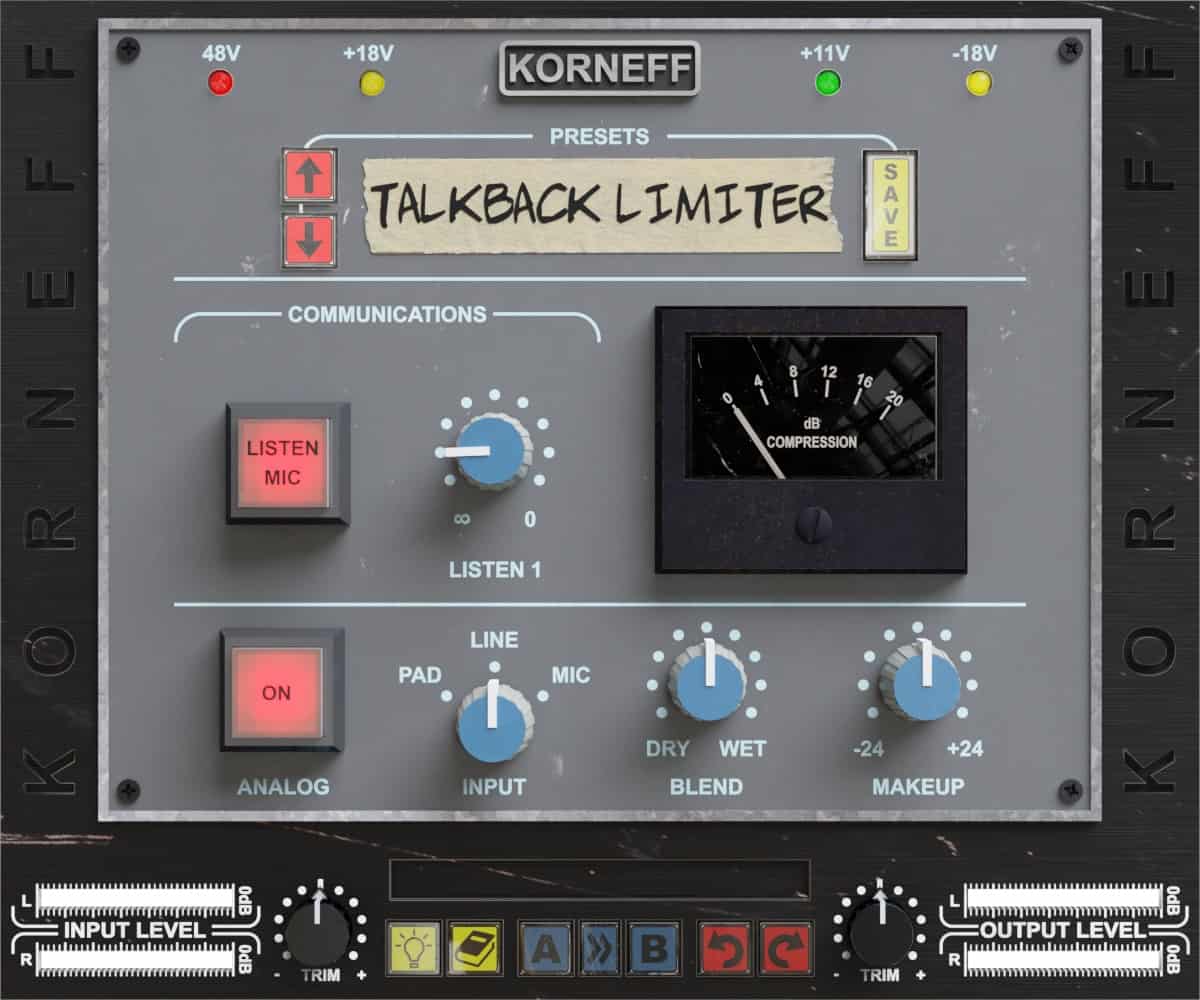 Secret Weapon of Top Producers
First utilized in a vintage British recording console, the Talkback Limiter was THE sound of drums throughout the 80's, and is still a major component on records today.
Originally designed to protect control room speakers and personnel from loud noises over the studio communications system, this down and dirty, heavy-handed limiter is perfect for adding huge amounts of punch to any signal with a transient.
Flexible and Tweakable
Our Talkback Limiter has expanded functionality to make it more versatile than the original, and useful on more than just drums. It adds pop and tickle to bass tracks, brings out attack and details on guitars, and adds a gutsy quality to vocal tracks.
The Korneff Audio Talkback Limiter has addition "Other Side" controls to let you further tweak the plugin. The bottom line is you have a lot more control of this plugin than engineers had over the original console based unit.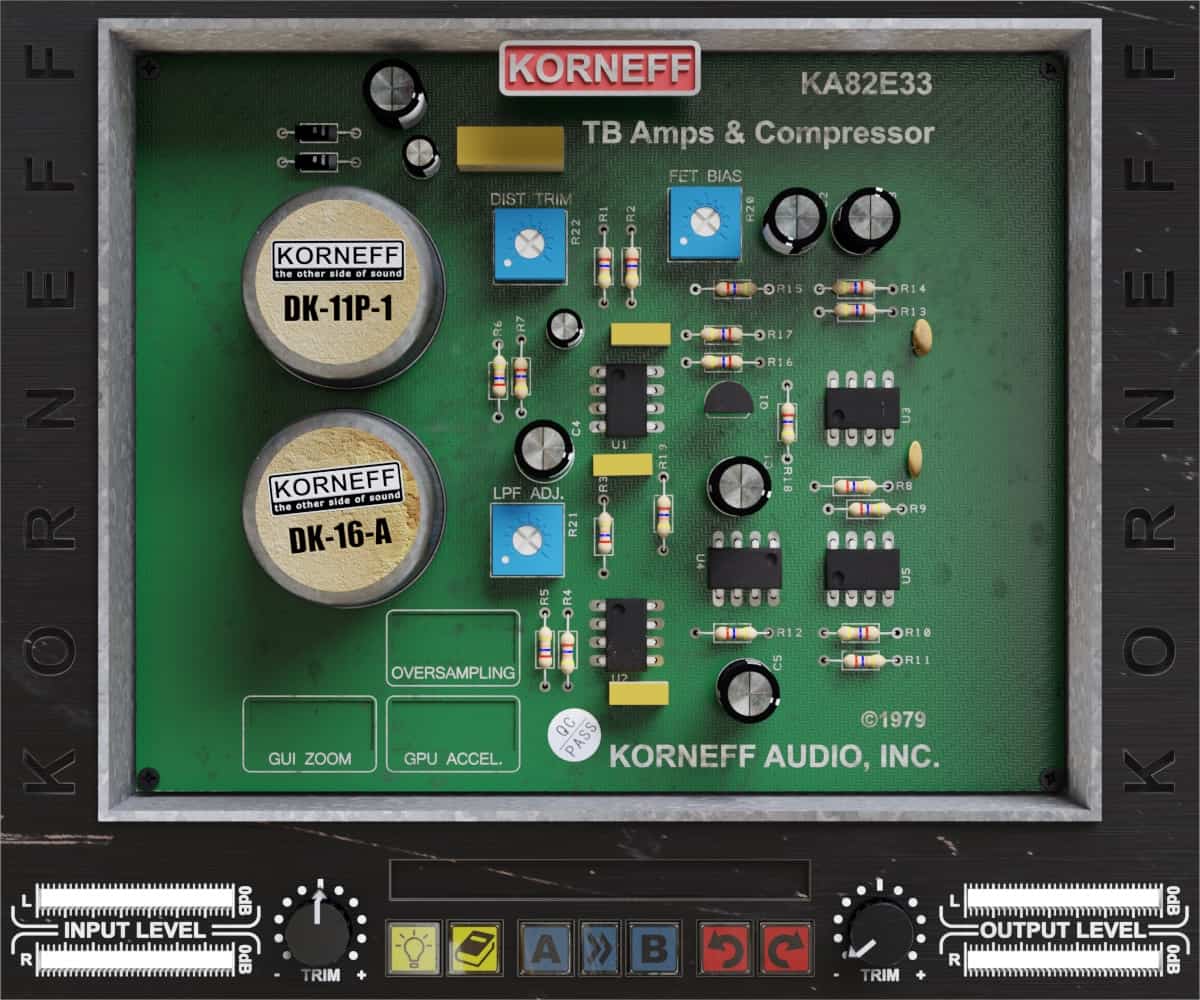 TBL Block Diagram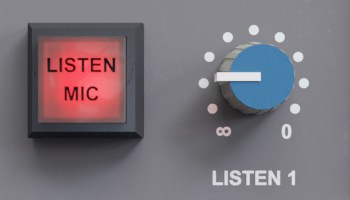 100:1 ratio - talk about a brick wall
Turn LISTEN 1 to lower the threshold and kick in an FET style compression circuit at a 100:1 ratio. Attack is very fast, but just slow enough to make this the punchiest compressor you'll ever use. It adds bite to ANYTHING. Makes grandma's church choir sound like a Vinnie Paul drum solo.
30dB of gain! Yikes!
Switch the input level from LINE to MIC to add 30dB of gain, and loads of harmonically rich saturation and distortion to even the quietest signal. Seriously, this thing will make the sneeze of a bug sound like the scream of a metal core singer. Want to clean it up? Switch it to PAD to reduce input gain by 20dB. Click on ANALOG to accentuate the non-linearities in the frequency response of the analog unit we modeled for the plugin.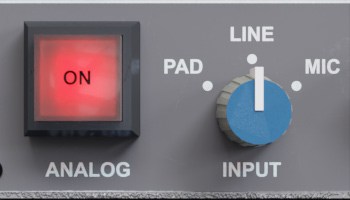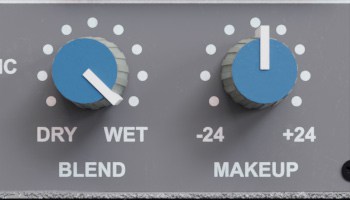 Control the Mayhem
Our Talkback Limiter can be used for more than just drums. The WET/DRY control lets you back the compressed signal way down, so you can precisely adjust how much punch and character you hear in the final mix. You'll end up using the Talkback Limiter to to add a subtle punch and presence to all sorts of instruments in many different applications. And, of course, you'll use it to crush the hell out of things.
Tweakable
Our Talkback Limiter has addition "Other Side" controls to let you further tweak the distortion characteristics and compression curves. There's also an adjustable Low Pass filter that can smooth out the top end, or completely mangle it for a low fi effect. And adjustable oversampling lets you manage your CPU usage in a plugin heavy recording/mixing situation.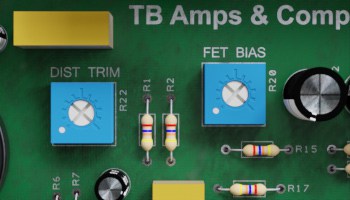 Videos and Media
Less Lame Drums
Get better drum sounds from your DAW drums using the Talkback Limiter.
Korneff Audio| Talkback Limiter
A comprehensive review of the Talkback Limiter by Michael Judkins.
Let's Plug: Korneff Audio
Geoff demos both the Pawn Shop Comp and Talkback Limiter in this 23-minute video.
Knock Our Site Down?
The guys at SonicState mentioned the Talkback Limiter on a YouTube livestream and moments later... Boom! Skip to 57:16 for the plugin plug.
Le son des 80's ! Talkback Limiter LesonDeson
For our French speakers, LesonDeson demos our Talkback Limiter while recreating the "sound of the 80's."
TGC - Korneff Agressive Limiter ADSR (Neve-style)
A 1-minute demo of audio before and after applying our Talkback Limiter by Thomas Schulte-Ebbert.
SoundBytes reviews the PSC and the TBL
A comprehensive double review of the Pawn Shop Comp and the TalkBack Limiter. This guy looks at EVERYTHING. Diagrams included!
Sound-Guy's TBL Review on Gearspace
A comprehensive Talkback Limiter review from Dennis (Sound-Guy) on Gearspace
Technical Specifications
Minimum System Requirements
1 GHz Intel Dual Core Processor or AMD equivalent (PC)
4GB of RAM
Mac OS X 10.7 or higher, 10.14 or higher recommended
Windows 7 & Above
Screen res: 1024 x 768 or higher
Licensing
iLOK Sytem/Machine Authorization, iLOK dongle, iLOK Cloud
64 bit DAW support only
Supported Plugin Formats
Intel Mac 64bit: VST3, AU, AAX
Windows 64bit: VST3, AAX
Current Release 1.2.1
Download User Manual PDF
Another killer addition to my arsenal. At this price its a no brainer. Just buy it you will find a use for it for sure.
Man this thing rips on EVERYTHING I put it on. Unreal!
I Love the Korneff Plugins. The talk back Limiter is a beast! It has become a staple on my drum bus, There is nothing like it
It sounds ok, but it's marred by iLok nonsense.
I downloaded the trial, and bought it 5 minutes later!! This this is SICK!!
Dude!! This thing kills!!! Love it! Nice to pop it open and tweak it too! Great on drums obviously and got some cool vocal efx going with it. Excellent work!!! Thanks again for a very useful piece!!
Just spent 4 days using the TBL on a dedicated drum bus while I tracked a whole lotta drums for a client. We both loved it. Gave the drums the beef they need to help the drummer have fun while playing AND not hit so hard. Got some big tubby 70's dry drum sounds, played […]
This was one of those plugins I didn't know I needed, until I had it. The Dry/Wet control makes it ideal for Drum Shells, Bass, Vocals,
just Great ? ... other digital limiter does the job well. But this isn't just a limiter... sound like real hardware unit... pushing my material out off my speakers. Also nice to add a bit... You know... simple a bit more 😉
Reviews
All reviews are by verified purchasers.
Login to your account here to leave a review.