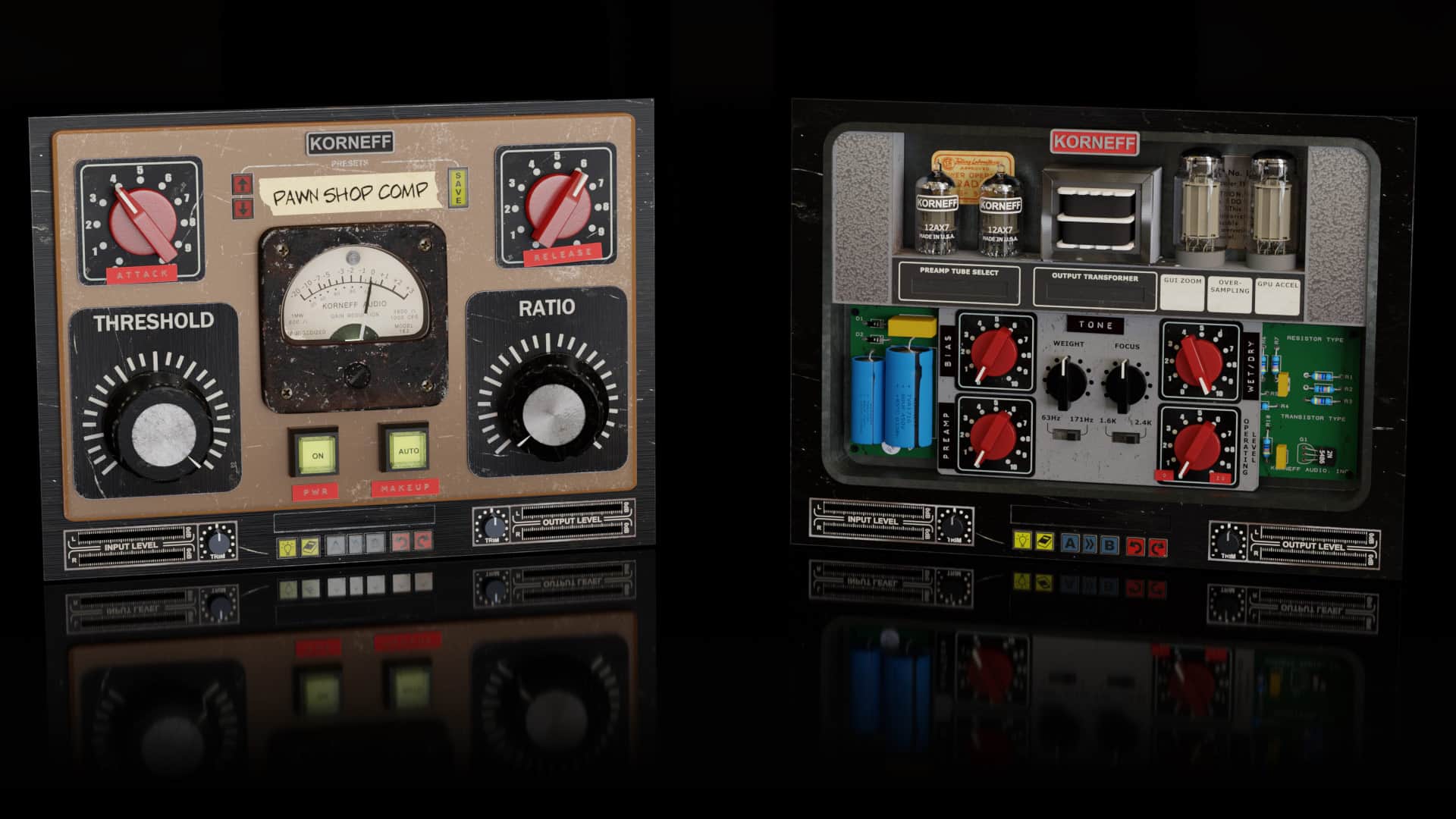 Pawn Shop Comp 2.1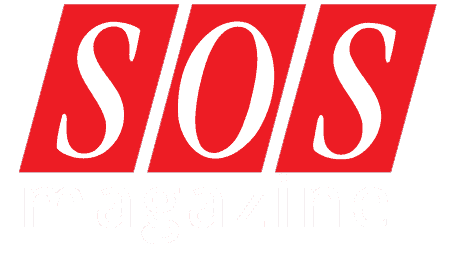 "A nice, vibey compressor plug‑in that should please those with a penchant for tonal tweakery!"
"your ears are greeted with optimum mojo... it never takes long to find something cool"
full review at Sound on Sound
Gritty. Punchy. Smooth. Warm. All that. And more!
The Pawn Shop Comp 2.1 is a professional tool that will make a huge difference in the quality and impact of your mixes. It sounds great on any sound source and in virtually any application.

More than a compressor, the Pawn Shop Comp also has a fully adjustable tube preamp, a two band equalizer, and swappable components that give you unprecedented control of every parameter of the plugin.

The 2.1 upgrade adds System/Machine authorization. You can now license your plugin via iLOK dongle, and iLOK cloud account, and via System/Machine authorization.

The PSC 2.1 upgrade also features faster, smoother performance by utilizing GPU acceleration. We've also added a new Aux Panel for easier access to presets, level trims, and more.
PSC 2.1 Update Video Walkthrough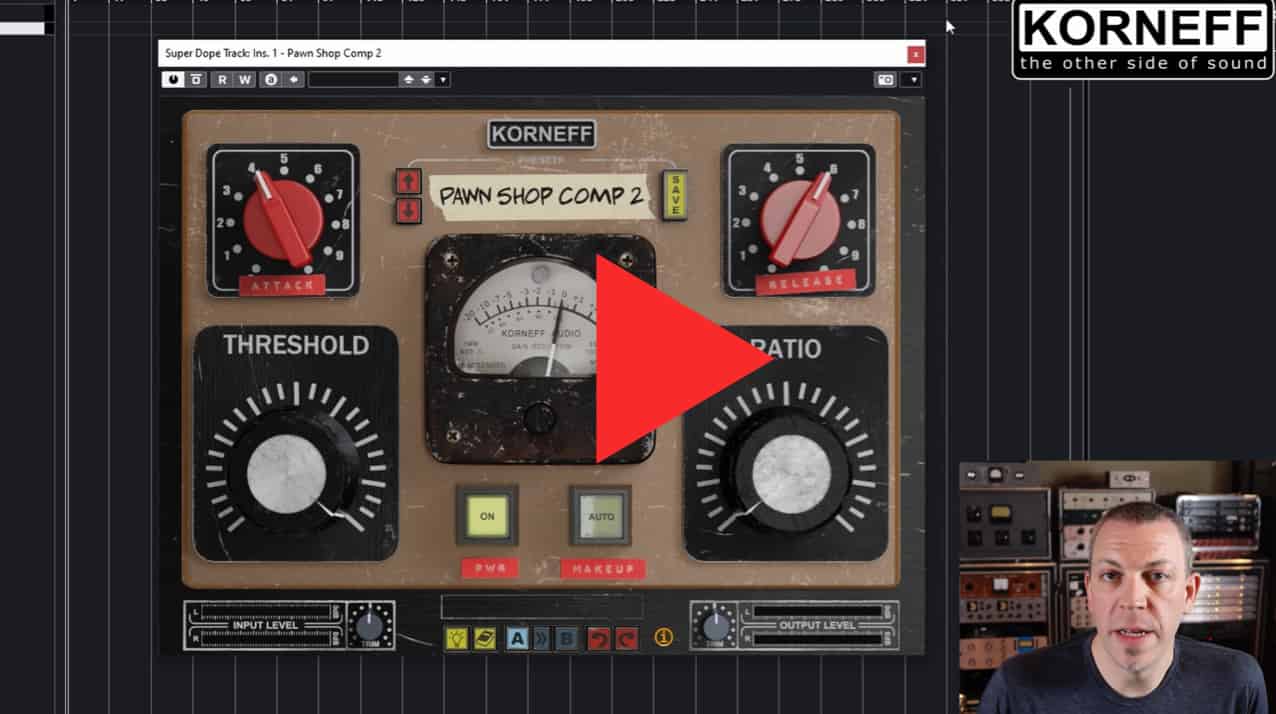 Get the Demo
You can use the Pawn Shop Comp on:
Get punch and snap out of individual drums or the entire drum bus. Built in low frequency eq centered at 63Hz, perfect for enhancing the thud of a kick drum. And you can dial in a bit of saturation to mimic the sound of classic FET limiters like the 1176.
Built for bass sounds. Dial in attack to punch the bass through the mix. Set the release to contro sustain and resonance. Throw in some low end equalization to enhance the bottom end, and add some tube style saturation for additional growl.
Killer on electric guitars. Precise control over note articulation and sustain. Adjust the midrange equalization for presence in the mix. Swap in ECC-83 tubes and get vintage amp overdrive and distortion... from a compressor!
The PSC is a vocal channel strip, with almost everything you need to get kick-ass vocals. Get smooth, musical compression, or crush it for color and character. Swap out transformers for tighter or darker response. Add warmth with the preamp, or saturation and drive.
Add color, character and crunch to lead lines, and warmth and harmonic structure to pads. The wide adjustability of the PSC makes it a natural for use with analog or sampled pianos.
Bus compression with the Pawn Shop Comp... yes, it can do this, too. Give your mix or instrument cluster definition and "glue." Control the amount of effect with the Wet/Dry control for easy parallel processing. Punch up the top and bottom with the PSC's 2 bands of eq.
Too often, the accordion is overlooked in modern recording... kinda like the cowbell. The Pawn Shop Comp's preset library is full of places to start when you don't quite know what you're dealing with, but know it needs something.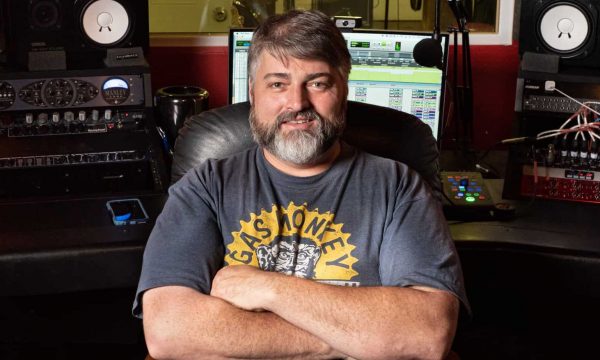 It's mistake to think of the Pawn Shop Comp as just a compressor. "The front side" is definitely a great sounding compressor, but where it really separates itself from the pack is as a tool to sculpt audio. "The other side" of this plugin is what makes it so much more than just a compressor.
Gary Conahan
Enuff Z Nuff, Black Letter Days, Almost Honest, Aggressor D, Corvette Summer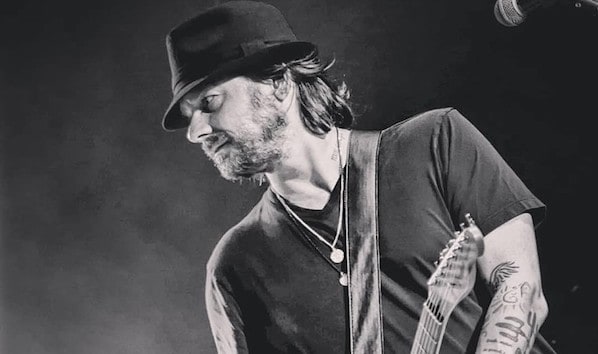 The options, sound and feel of Korneff Audio's Pawn Shop compressor are unmistakable and indispensable in my workflow. The update is ridiculous and their Talkback Llimiter is a one of a kind.
Peter Klett
Peter Klett (original Candlebox guitarist) and creature of @citysessionssound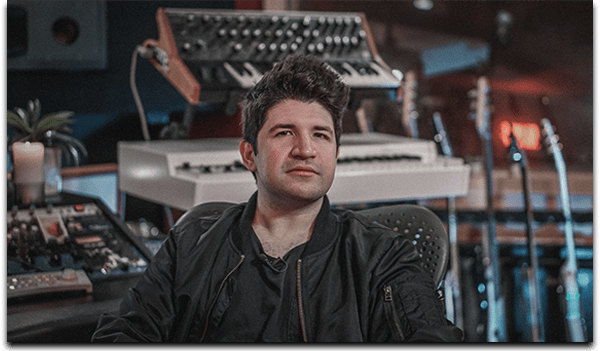 It's hard to come by plugins, especially plugin compressors, that do something unique that hasn't been done before. I don't know how he has done it, but Dan's plugins give me a totally different flavor than anything else out there. They sound great, are super easy and fun to use, and give you that "wow" factor that can turn a dull sound into something super exciting the second you instantiate them. I am looking forward to seeing what Korneff Audio has in store for the future!!!
Zakk Cervini
Yungblud, Blink 182, All Time Low, Poppy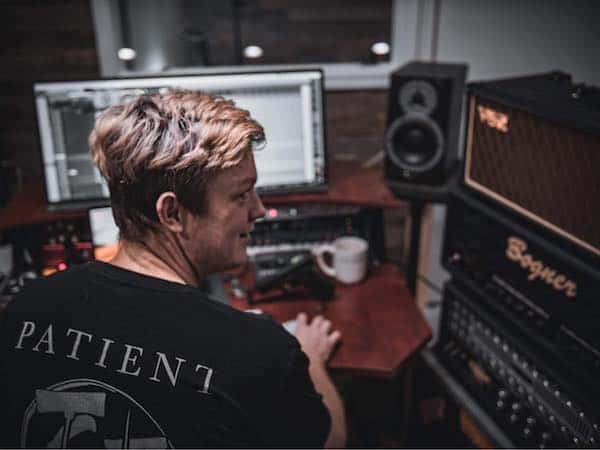 I'm a "compress" on the way in kinda guy with vocals, but even so, Pawn Shop Comp takes everything up a level. That last sweet bit of compression to make them pop, and then cranking the preamp and bias knobs make everything stand out over the sea of guitar layers and synths.
Beyond vocals.. snare or kick need some smack? What's better than some dirty tube compression? Warm up your dull guitars? Got it covered. Def obsessed with using this guy.
Cory Brunnemann
Darkness Divided, Upon a Burning Body, Nine Shrines, Backwordz, The Royals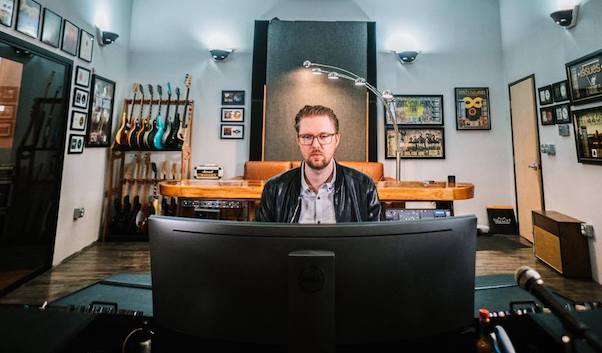 The Pawn Shop comp is a powerful compressor and tone box. Its uncanny ability to create space in a mix while retaining punch and character is fantastic, just like my favorite analog gear.
Kristofer Crummett
Dance Gavin Dance, Issues, Sleeping With Sirens, Fame On Fire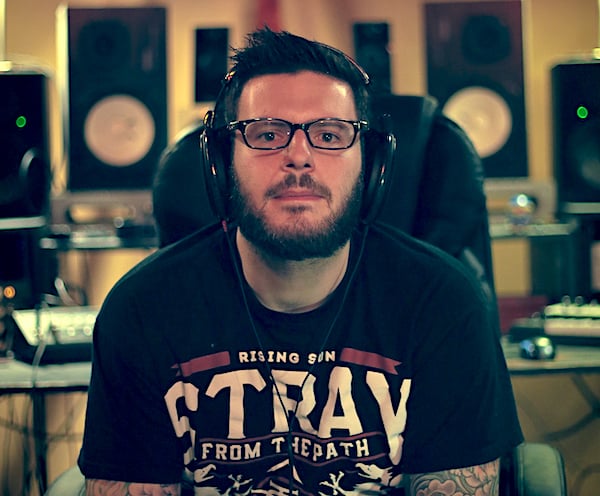 The pawn shop comp kicks all the ass. Feels like the real thing. Does exactly want I want it to do. Love it on drums. Has been getting plenty of work on recent mixes. For the price this thing is a no-brainer.
William Putney
Body Count, In Heart's Wake, Reflections, Sleeping Giant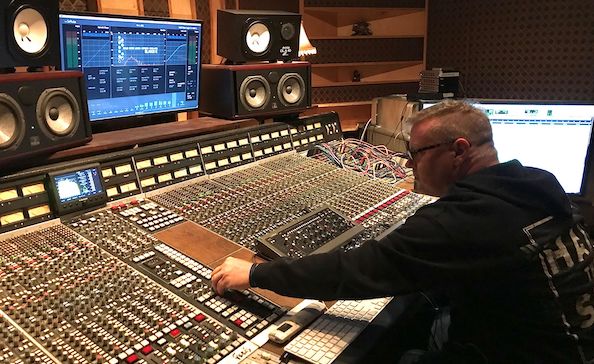 Not only is the Pawn Shop compressor powerful and punchy, it's also packed with a myriad of extremely useful tone selections!
In addition, as an owner of an SSL 4000 E series console, I can say 1st hand Korneff Audio NAILED the talkback limiter! Well done guys!!
Mike Watts
The Dillinger Escape Plan, Glassjaw, As Cities Burn, Hopesfall, As Tall As Lions, The Dear Hunter, Gates.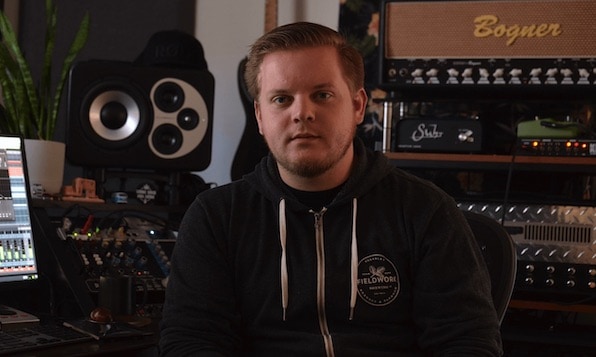 My favorite thing about the Pawn Shop Comp is just how ridiculously hard I can push it without everything falling apart. Whether I want clean, pumpy, or totally annihilated, I know PSC will deliver.
Jeff Dunne
Motionless in White, Crystal Lake, Fit for a King, Ice Nine Kills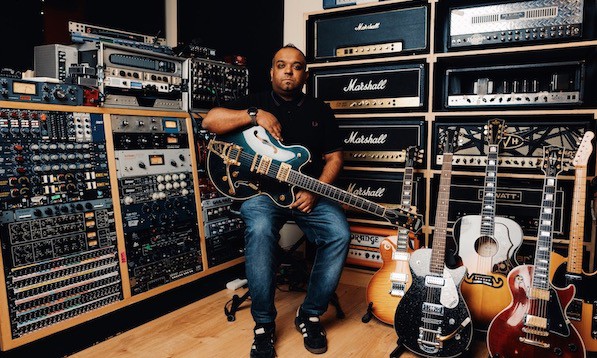 Pawn Shop Comp is full of analog colour, it has been incredible for so many instruments, especially drums. With Dan putting his amazing electronics knowledge into the tweakable elements of the plugin, it has made this such a versatile compressor for me.
Romesh Dodangoda
Motorhead, Bring Me The Horizon, Funeral For A Friend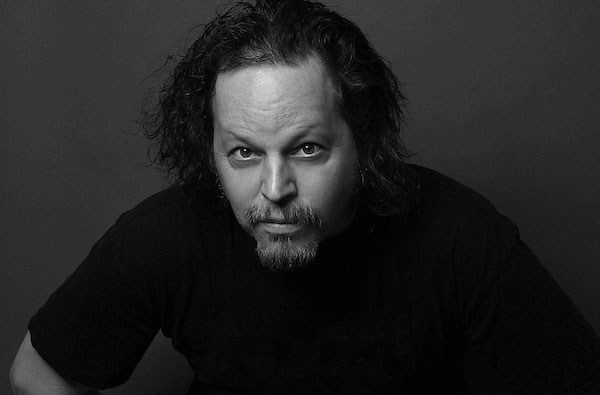 The pawn shop compressor has become my go to plugin on every project. I'm not sure how I ever mixed without it, especially on drums! Thanks Dan for making mixing so much easier.
Eddie Wohl
6 time Emmy winning composer, Anthrax, Fuel, Ill Nino, Smile Empty Soul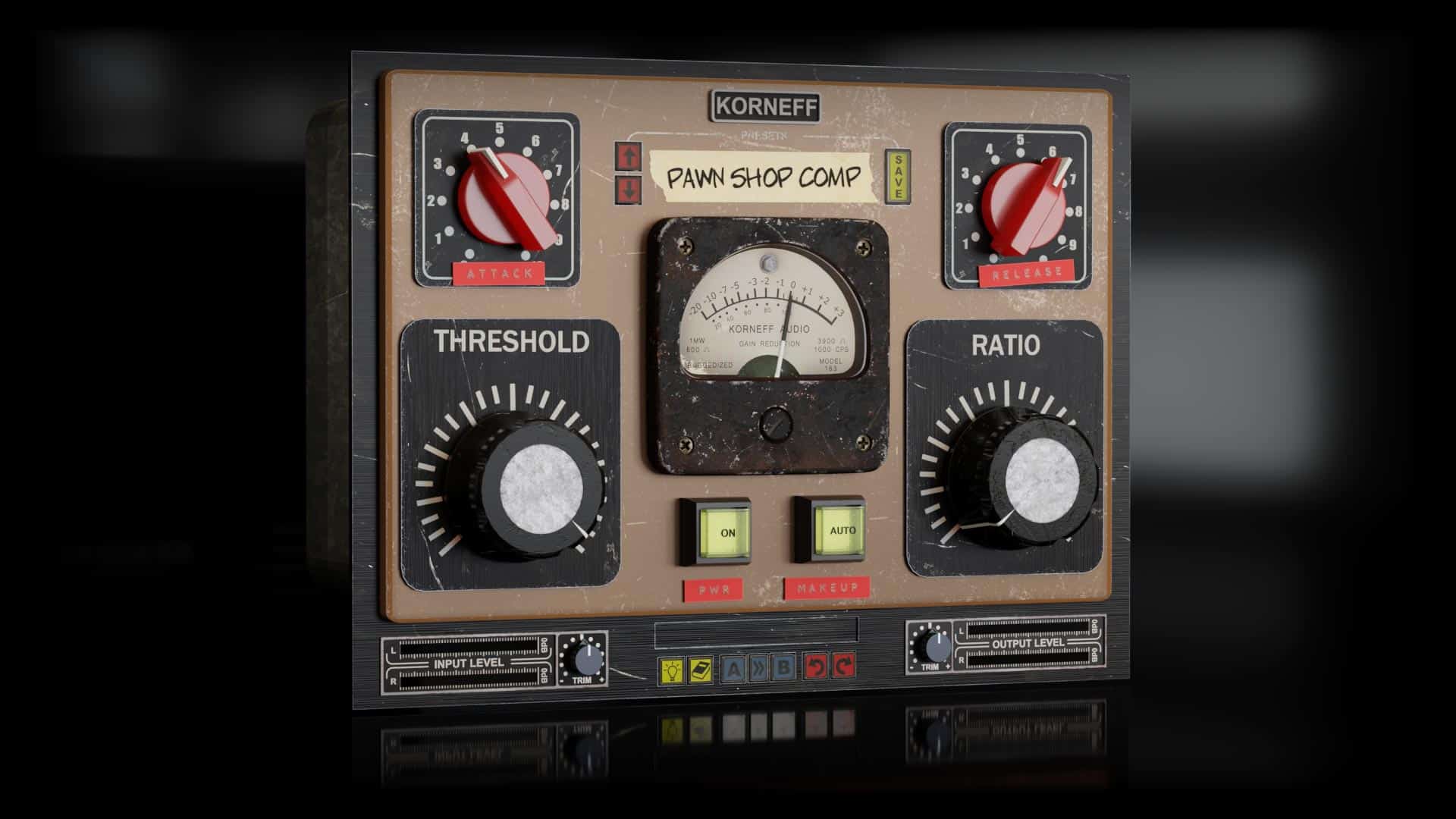 The Compressor: A Modern Classic
A unique hybrid tube/FET circuit lets the Pawn Shop Comp handle virtually any compression task you throw at it. Complete controls for all compressor parameters let you tailor response from smooth to punchy to total crush.
THRESHOLD: 0dB to -100dB
RATIO: 2:1 to 50:1
ATTACK: .2ms to 200ms
RELEASE: 10ms to 1.2s
AUTO MAKE-UP GAIN: interactive with Threshold and Ratio
MANUAL MAKE-UP GAIN: +/-18dB
PWR ON/OFF: switch the compressor off and use the PSC's great sounding preamp and equalizer.
PSC Block Diagram

Input and Output Trim
PSP Proprietary Signal Processing
IMF Insufferable Midrange Filter
Filters 1st Order High and Low Pass
EQ 4 band Fully Parametric
VCA VCA Compression
FDR Frequency Dependent Reduction
Stereo Width Stereo Width Enhancement
Dry / Wet Use the AIP as a parallel processor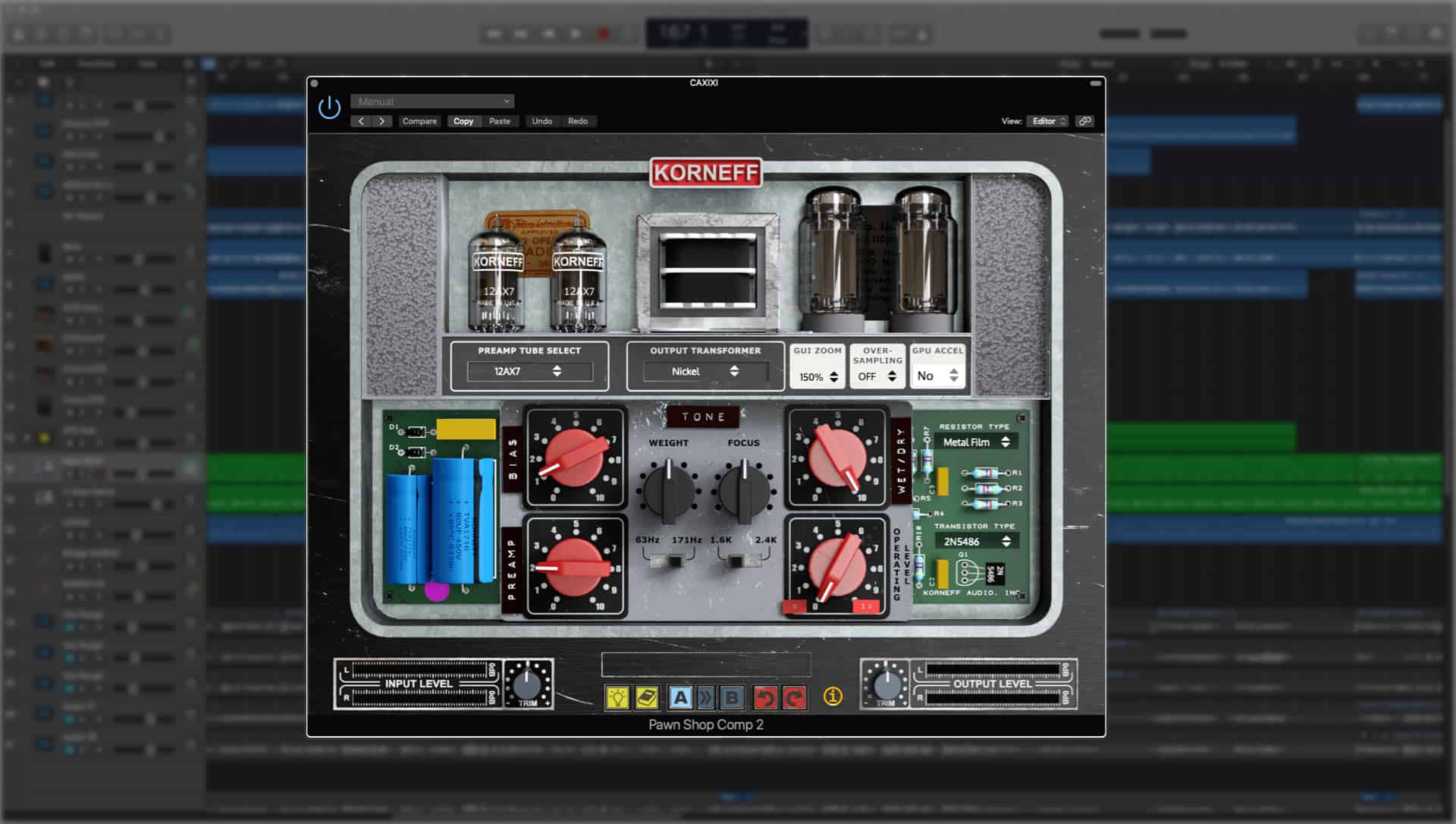 Ultimate Control
This Ain't No One Knob Plugin.
Want to change the compression curves of the PSC? Swap in different FET's. Want to get a vintage sound? Swap in Carbon resistors. Need something bright and modern? Switth over to Metal film resistors. Looking to experiment? Crank up the OPERATING LEVEL control and emulate what happens when you blow up gear in the studio - but without the smoke, fire, repair bills or chance of electrocution. And if you go too far, you can back it all down using the WET/DRY control, or the INPUT and OUTPUT trims. Set the OVERSAMPLING rate to better manage your CPU usage. Browse the PRESET LIBRARY. Adjust the size of the GUI to fit your monitors and studio set-up.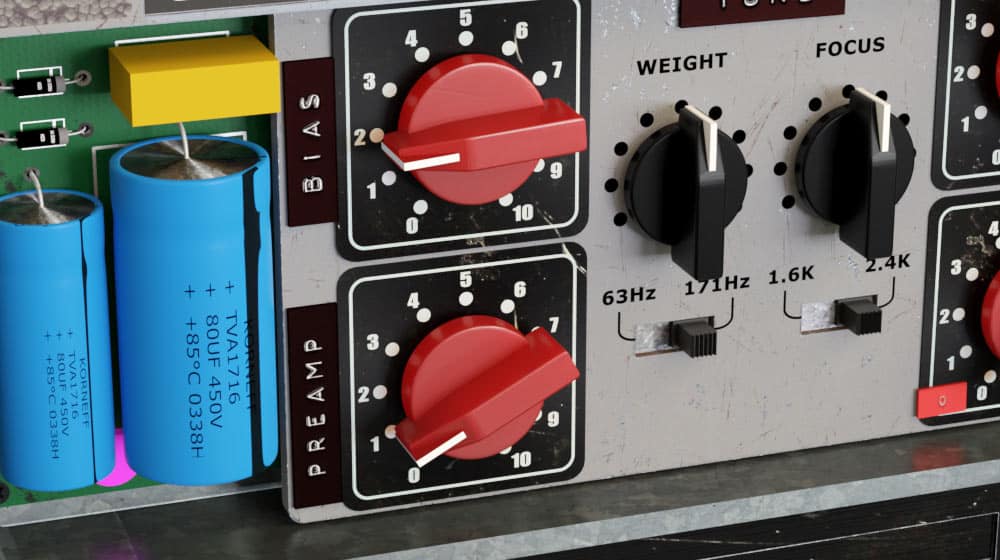 A Tube Preamp
Use the Pawn Shop Comp's tube preamp to add saturation and the warm harmonic distortion that is the mojo of tubes. But push GAIN even further to add overdrive and distortion, and adjust the BIAS for total shred. The PSC preamp can add character to vocals, hype to guitars and bass, and incredible color to room mics and the drum bus.
Swap Tubes and Transformers
Swap between three different sets of tubes and three different transformers to adjust the response of the Pawn Shop Comp from timid to street thug. Combined with the preamp Gain and Bias, tubes and transformers let the PSC sound like a classic tube limiter from the early 60's, to modern, high end bespoke compressors, and all shades in-between.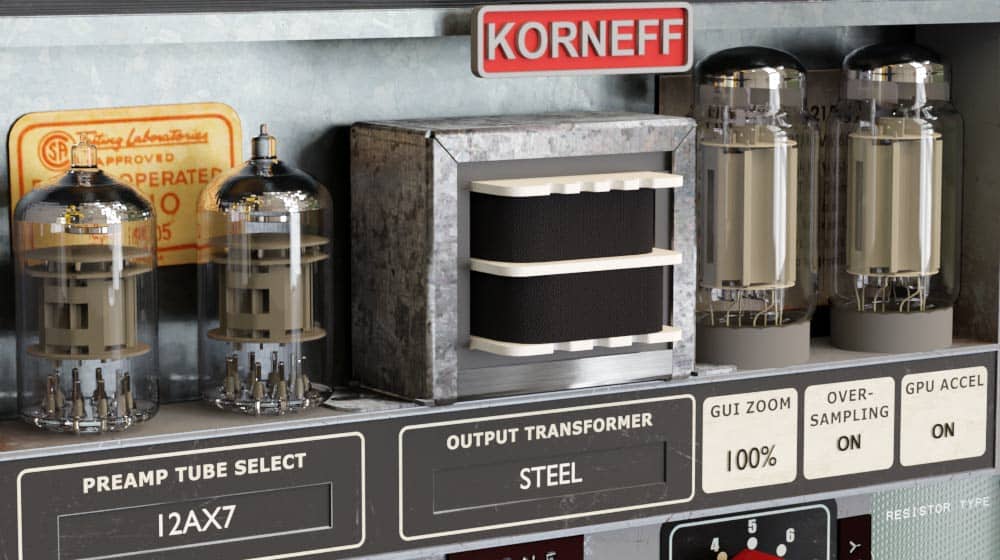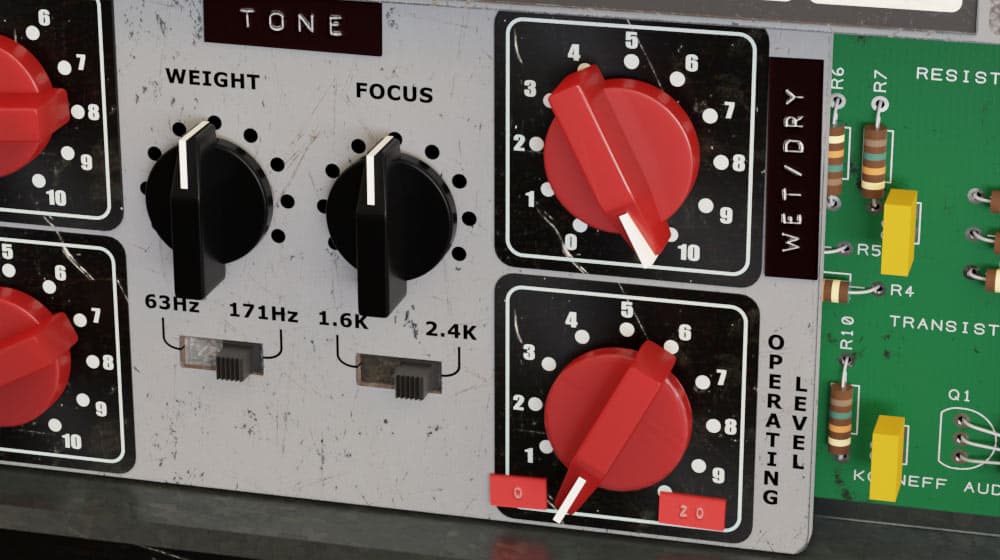 Essential Sonic Sweetening
The EQ can be used to compensate for the loss of lows and presence that happens at high compression settings, and also for more creativity and enhancement. The WEIGHT control can be set for extreme lows (think kick drums) or slightly higher to give a signal warmth. The FOCUS control is centered in the midrange and adjustments in this band can add presence and width to a track. With +/- 8dB of gain, and wide, gentle peaking curves, use the eq to beautifully sculpt a track or an entire mix.
Videos and Media
First Look: Korneff Audio - Pawn Shop Comp Compressor
In this 10-minute video Tim Talks Audio provides a walkthrough and demo of our Pawn Shop Comp as well as a brief review.
Pawn Shop Comp REVIEW
Jay provides a review of the Pawn Shop Comp and demo using his own music in this 10-minute video.
Let's Plug: Korneff Audio
Geoff demos both the Pawn Shop Comp and Talkback Limiter in this 23-minute video.
BCS GEAR REVIEWS - KORNEFF AUDIO "PAWN SHOP COMP"
This 30-minute video by Bridge City Sessions gives an in-depth look at our Pawn Shop Comp.
Korneff Audio Pawn Shop Comp 2.0 - supercompressor from Dan Korneff
For our Russian speakers (English subtitles are available as well), Yorshoff Mix dives into the technical aspects of the Pawn Shop Comp.
KUSH AUDIO SILIKA vs KORNEFF PAWN SHOP - Are these the best compressor plugins 2020?
Paul Third compares the Kush Audio Silika and the Pawn Shop Comp, reviewing both while indicating potential strong points and weaknesses.
Korneff Audio Pawnshop Compressor Review - Black Match Recordings
A 30-minute review of the Pawn Shop Comp by Black Match Recordings.
SoundBytes reviews the PSC and the TBL
A comprehensive double review of the Pawn Shop Comp and the TalkBack Limiter. This guy looks at EVERYTHING. Diagrams included!
PSC Review by Sound-Guy on Gearspace
A comprehensive Pawn Shop Comp review from Dennis (Sound-Guy) on Gearspace
Minimum System Requirements
1 GHz Intel Dual Core Processor or AMD equivalent (PC)
4GB of RAM
Mac OS X 10.7 or higher, 10.14 or higher recommended
Windows 7 & Above
Screen res: 1024 x 768 or higher
Licensing
iLok dongle, iLok Cloud, iLOK Sytem/Machine Authorization
64 bit DAW support only
Supported Plugin Formats
Intel Mac 64bit: VST3, AU, AAX
Windows 64bit: VST3, AAX
Current Release 2.2.3
Download User Manual PDF
Just played with the PSC for a few minutes but I already fall in love with the sound. Really a great tool and I just started to play with it. Since I already saw how deep u can go, I know I will need a while to learn it in and out. But it look […]
What is this sorcery? Great work guys. Had me at the talkback limiter and now this!!!
Thought I had enough compressors but obviously not ..Korneff You had me at Demo lol
Both plugins sound excellent and great support 🙂
Great action and color. Excellent support!
Love this thing. Super flexible tones, movement, and color. Will probably prove indispensable from here on out. Thanks for the great customer support and for making great quality tools!!!
Reviews
All reviews are by verified purchasers.
Login to your account here to leave a review.