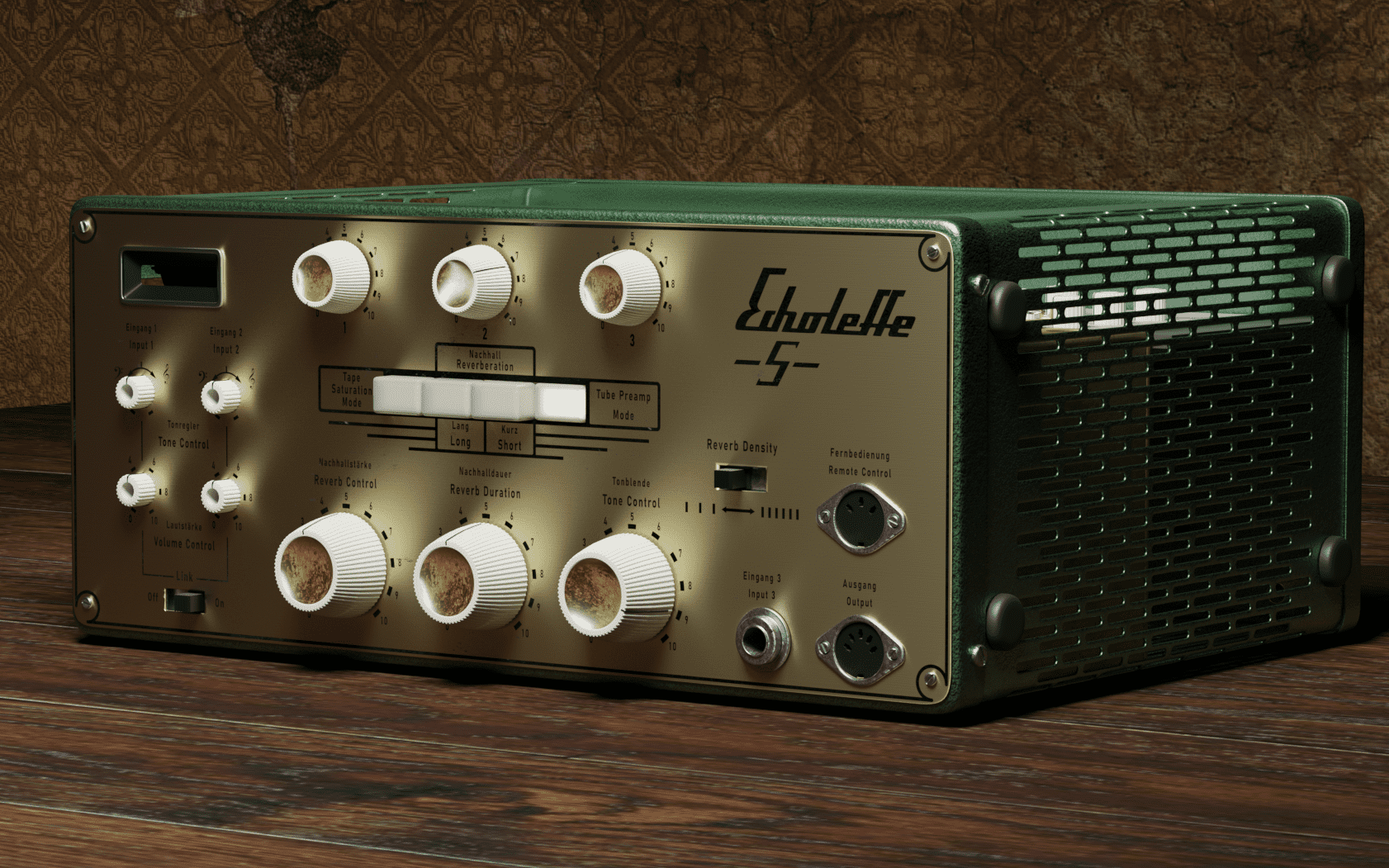 The Vintage Tape Delay You've Been Waiting For...
(and waiting for...)
The Echoleffe Tape Delay is an audio plug-in for your DAW that gives you the sounds and spirit of a fabulous, all-tube tape delay from 1961. It adds effortless character and vintage mojo to your recordings and mixes. But it's TONS more than just a tape delay.
Three different operational modes give you delay effects, tape saturation and a tube preamp. You have to hear this thing. You'll poop the console.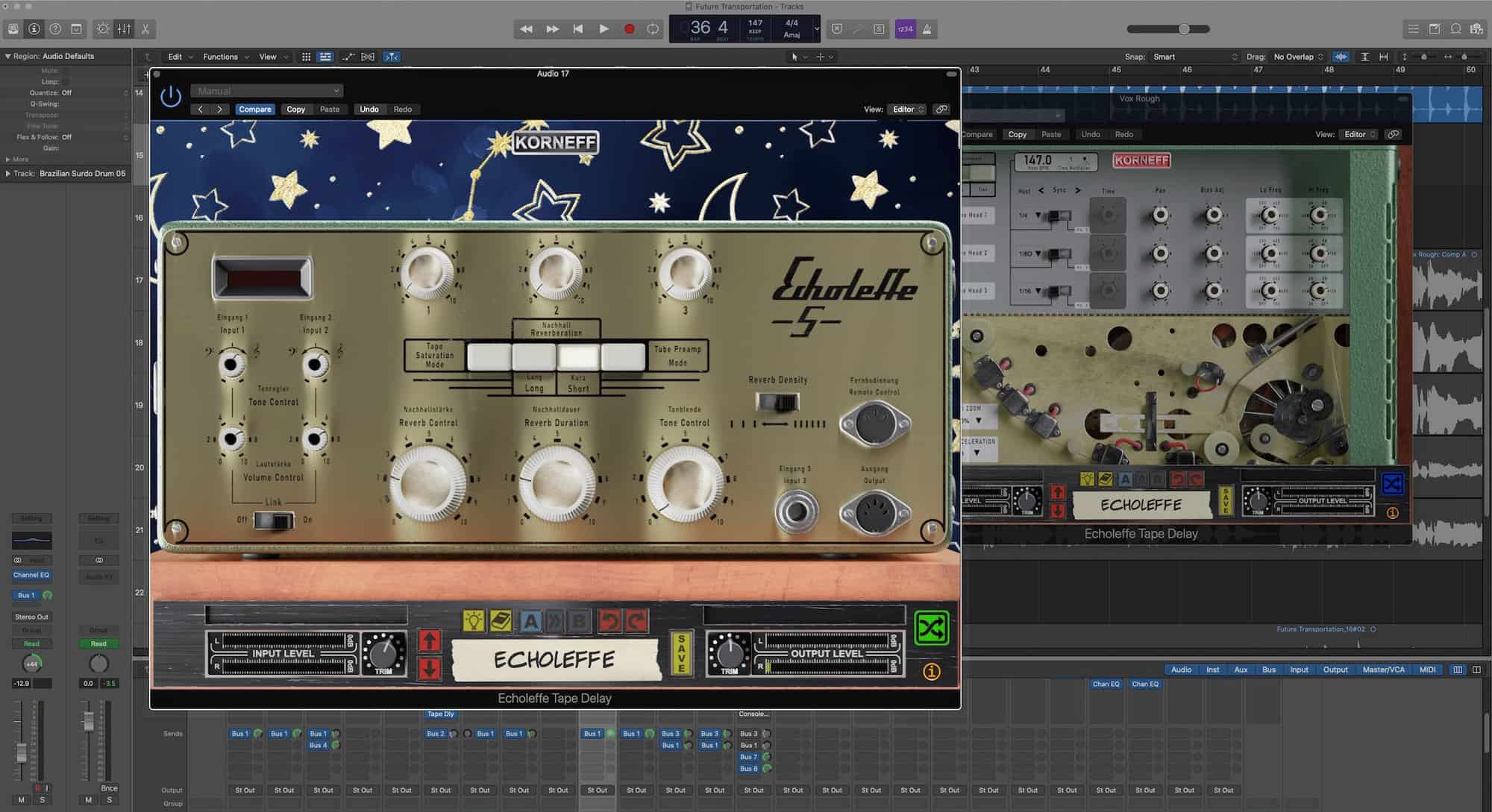 Tape Delay Mode
The ETD is a fantastic tape delay simulation with unmatched versatility and sonics. From pristine vocal echoes to outer space flange effects, the ETD is a tool that brings out your creativity.
Tape Saturation Mode
Tape Saturation mode switches off the delays and turns the ETD into a dedicated tape saturator. Add a gentle warmth or completely overload the signal, and adjust wow and flutter for unique, modulated effects.
Tube Preamp Mode
The ETD's tube preamp simulator adds a gorgeous warmth and richness to any signal you pass through it. No delay, no saturation, just pure tube preamp glow... or crank up the gain and make things explode.
ETD 1.0 Video Walk-Thru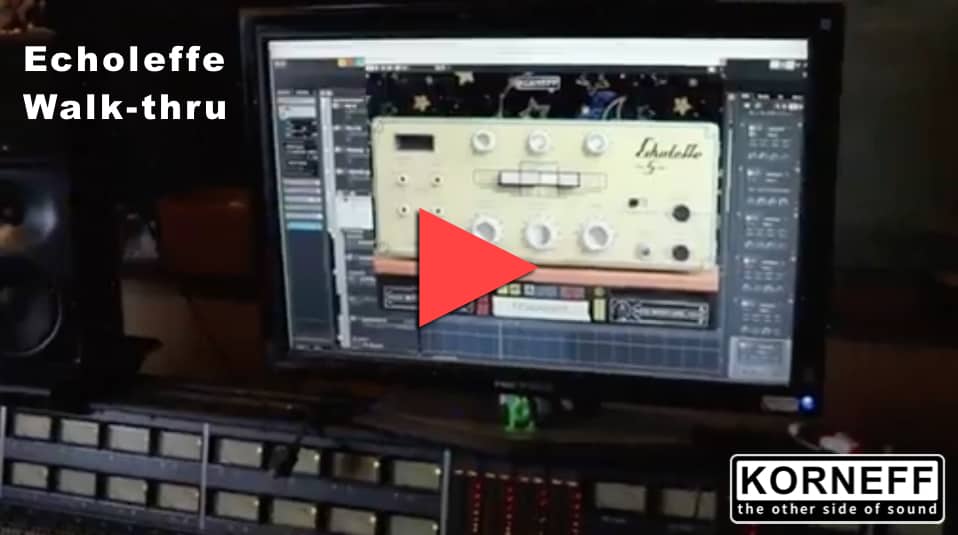 Get the Demo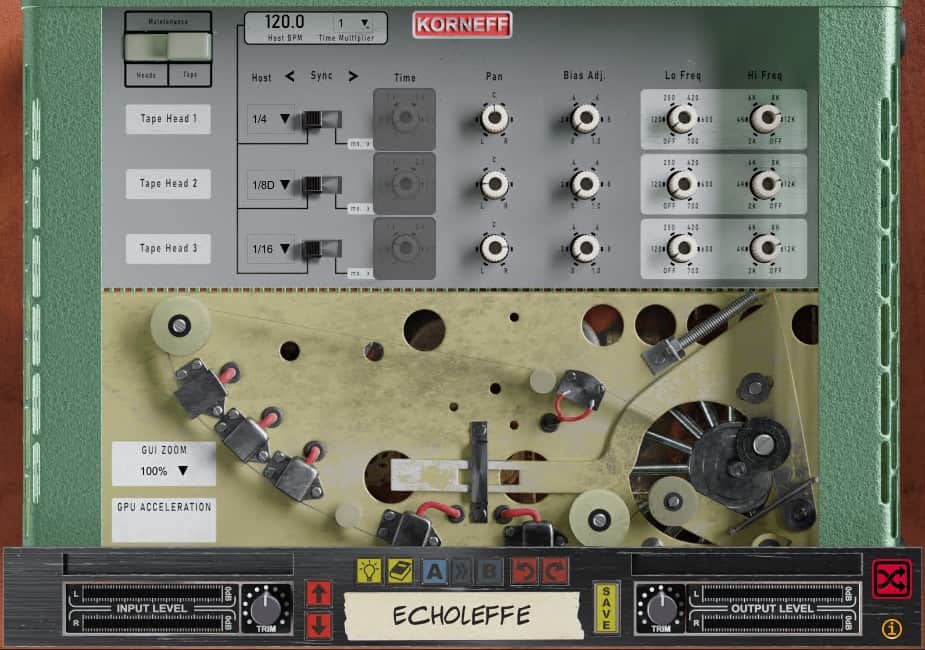 It's a Tape Delay
The Echoleffe Tape Delay features three delay lines that can be independently panned across the stereo field, EQ'd and tweaked for effects ranging from subtle to massive. Add some grit with the overly exaggerated bias adjustment, or use the filters to created lo-fi echo effects. Tempo sync to your DAW for perfectly timed echoes based on music note values, or set the time manually for up to 4 seconds of delay per delay line.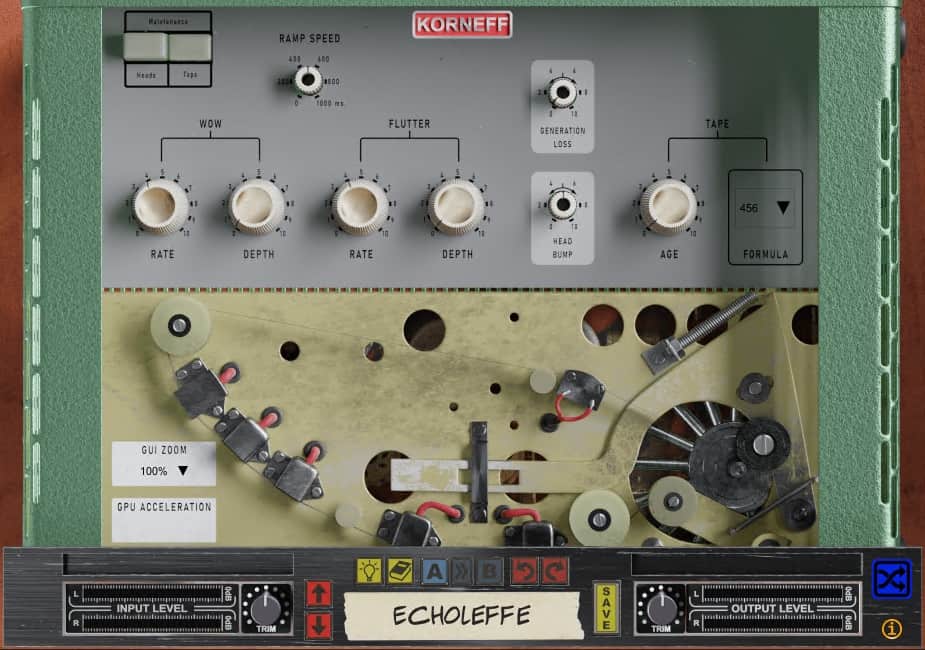 More Than Just Echoes
Beyond just delay, you have extensive control of all aspects of the tape. Tweak the age of the unit, simulate wearing out motors and tape heads and change tape formulations. Set Wow and Flutter for flanging and detune effects. Create reverbs that shimmer and move. Or nail the guitar sounds of your favorite players. The Echoleffe is massively versatile and fun to use.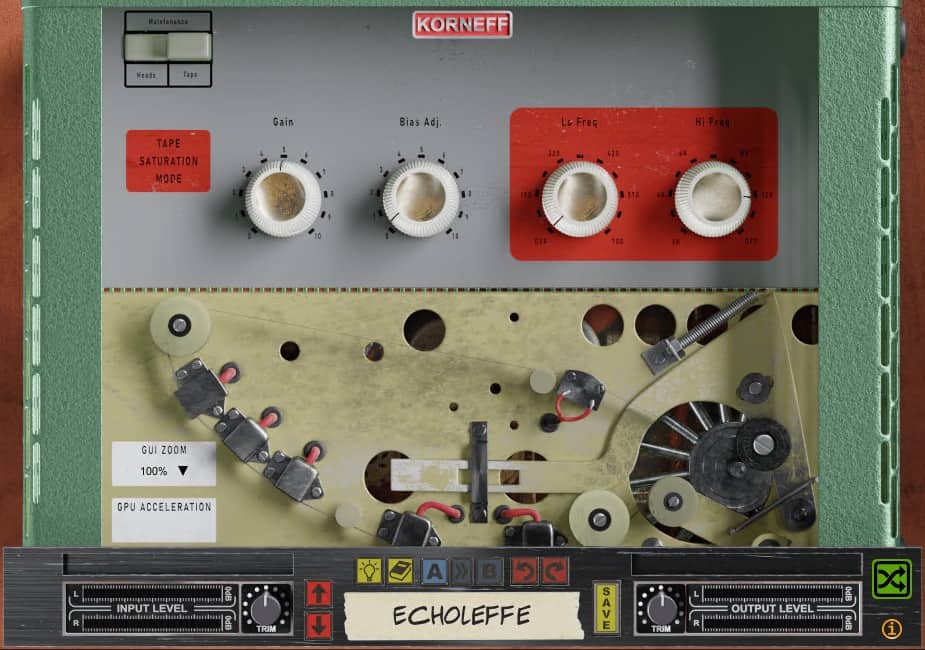 It's a Tape Saturator
Top engineers often cut critical tracks on analog tape to get the sound of tape saturation. Tracks recorded to analog tape tend to sit better in the mix, thanks to the gentle compression and sweet harmonics that come from tape saturation. Now you can get that sound on your mixes using the ETD. Adjust all parameters - from gain to bias to tape formulations and age. The ETD can be as gorgeous as a vintage analog tape deck, or as crunched and nasty as you want it to be.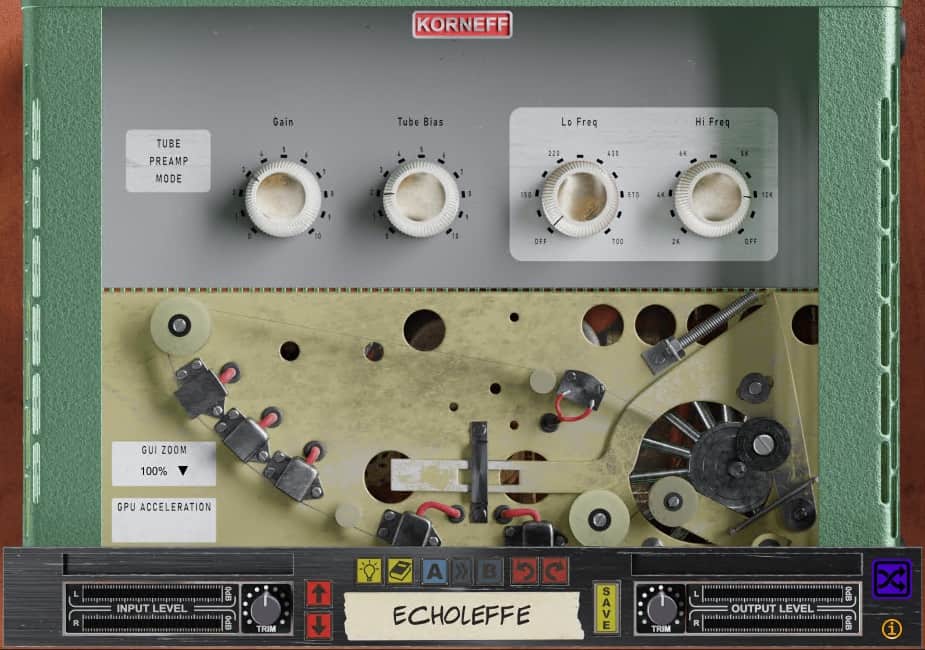 It's a Tube Preamp.
The heart of any audio system is its preamp. The ETD's preamp is an enhanced recreation of a tube circuit from the late 1950s that sounded so good it was made into a guitar amp. Our ETD gives you complete control of that tube circuit so you can further tailor the sound of your delays, or use just the preamp to warm up a track or create a unique fuzz tone. Strap it across the mix bus. Fix a thin bass. The ETD tube preamp mode gives you simple yet effective controls to help shape your tracks.
ETD Block Diagram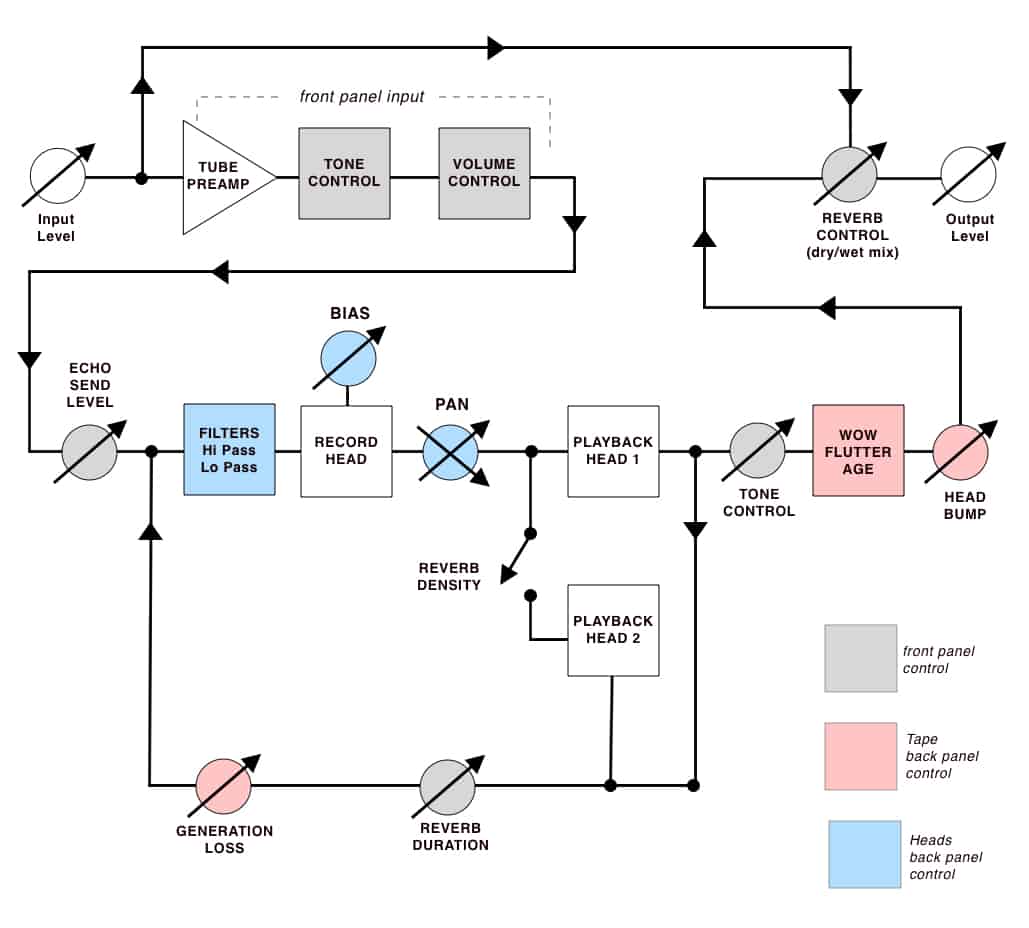 Videos and Media
First Look: Korneff Audio Echoleffe
Tim Talks Audio made a great video for our Echoleffe!
Happy Mag: The Echoleffe Review
Tim McArtney writes a really readable and clear review. And he loves the EDT...!
Matty Harris Loves the Echoleffe
YouTuber Matty Harris picks the EDT as one of his favorite plug-ins of 2022. And he explains things really clearly - and some good sound examples.
Echoleffe Technical Specifications
Play/Record Electronics
Tube emulation of  3x ECC83, 1x ECC82
Input Stage
Stereo (linkable) inputs with tilt EQ centered at 1kHz, +5/-5dB gain, adjustable output from +10dB to -100db.
Output Stage
Stereo output, master dry/wet blend for parallel processing, adjustable low pass filter on the wet output bus.
Delay Functions
3x delay record heads, with adjustable stereo pan, high and low pass filter network and record bias.
Manual delay times from 1ms to 4000ms, full independence of all delay lines.
Host synched delay times from whole note to 1/64 triplet subdivisions.
2x playback heads, switchable (Reverb Density control).
Tape Functions
Wow and Flutter depth and rate adjustments, adjustable tape generation loss, adjustable low frequency head bump.
Switchable tape formulations (456, 499), adjustable tape age characteristics (print through, frequency response anomalies, etc)
Operation Modes
Tape Delay Mode, Tape Saturator Mode, Tube Preamp Mode.
Presets
Expandable preset library, A/B comparison tools.
Help and Documentation
Built-in manual and switchable tool tip help functions.
Software Requirements
Minimum System Requirements
Intel, AMD or Apple Silicon processor
4GB of RAM
Mac OSX 10.14 or higher
Windows 7 & Above
Screen res: 1024 x 768 or higher
Licensing
iLOK dongle, iLOK Cloud, iLOK System/Machine authorization
Four (4) simultaneous authorizations
64 bit DAW support only
Supported Plug-in Formats
Mac 64bit: VST3, AU, AAX
Windows 64bit: VST3, AAX
Current Release 1.0.3
Great sounding plug-in, from an great company !
I'm a bit of an old school guy. So always looking for something familiar that's brings back good memories of the past, the glue, saturation, depth and just plain vibe for days the second you flip the switch. Found it!!!!!! Man, this is ridiculous!!!!!!!!
They could have stripped this down and just offered it as a dedicated tape saturator or a tube amp simulator and it would have been worth it. The delay is versatile enough to cover pretty much anything you want, with the ability to tweek every parameter you can think of. Manual/Tempo Synched delay, EQ, bias, […]
These are life changing plugins!! Dan's setting are just ridiculous! He's an amazing human being too! Thank you for making such amazing plugins - Billy Dawson
Has its own sound. A lot of "analog delay" plugins sound muddy and similar, this is very specific and can fit in a mix easily. Worth the money if you need another flavor. Also good saturation options if you turn the delays off.
Like all the Korneff stuff, it's brilliant and SO "tweakable"!
Hey Dan & Luke ... ok ... I LOVE this delay, it sounds deluxe,[like all you stuff] straight up, then there's much delight in the tweaking the flexibility within, from beautiful warm tape to seriously cool super messed up sounds, it's magnificent in stereo : that's when the magic happens .... big thanks, was worth […]
Great and actually pretty unique plugin, and a great deal of fun at that!
This was my first Hardware Echo…i played back all kinds of records after school and make my stepfather go freak… This does the same things i dreamed of for long. Thank you Korneff people 🙏 Ralf Goldking
These plugins are unique and go over and beyond my expectations, for adding colour and umph to my tracks. Keep up the good work.
These plugins go over and beyond my expectations. They add sooo much colour and umph to my productions. Keep up the good work.
This thing is giving my favored PSP Echo a run for its money! Excellent analog sound, but the bonus is the saturation and tube preamp! I feel like I robbed someone - I paid for one plugin, but got three! Kudos to Dan (and Luke) at Korneff Audio!
This isn't like any other tape delay plugin I already have and I have quite a few. There's a lot of scope for tweaking the sound and I love the crusty vibe you can get from it. It does (fairly) clean too though. With the tape saturation and preamp options you can use it for […]
The best tape delay emulation! Saturation and preamp modes are wonderful too and it's quickly becoming one of my favorite mojo plugins.
Reviews
All reviews are by verified purchasers.
Login to your account here to leave a review.
Additional information
| | |
| --- | --- |
| Test Attribute | This is the value field |